Specs completas:
Windows Phone 8.1 Update with Lumia Denim
3G & DSDS RoW variant: GSM 850 MHz, 900 MHz, 1800 MHz, 1900 MHz; WCDMA 850 MHz, 900 MHz, 1900 MHz, 2100 MHz; Speed GSM: EGPRS/296kbps/236.8kbps; HSPA+: 21.1Mbps/5.76Mbps
Memory: 1GB RAM, 8 GB internal user memory; 15 GB OneDrive cloud storage , micro SD expandable up to 128 GB
Display: 4.7" HD OLED (1280 x 720, 16:9), 316 PPI, Curved glass (2.25D), ClearBlack, SuperSensitive Touch, High Brightness Mode, Sunlight readability enhancements
Processor: Qualcomm Snapdragon 400 (MSM8926) 1.2 GHz quad-core processor
Primary camera: 6.7 MP FF ZEISS, f/1.9, Full HD video (1920 x 1080 @ 30fps), LED Flash.
Secondary camera: Full HD 5 MP wide angle (2596x1948) f/2.4, Nokia Camera, Nokia Storyteller, Nokia Creative Studio, Lumia Selfie
Size: 134.7 x 68.5 x 8.7 (volumetric) mm, Weight: 133g
Connectivity: NFC, A-GPS/GLONASS, BeiDou, WIFI 802.11 b/g/n, microUSB, BT 4.0 LE, Micro SIM
Battery: Removable 2220 mAh battery, exchangeable shell
Audio: 3.5 mm AV connector (AHJ), Dual microphone, FM Radio, Internet radio
he Lumia 730 gains some impressive additions with its 2014 update, including a removable battery, more RAM for video games, changeable shells, a 720P HD display and improved cameras.

The design of the Lumia 730 is reminiscent of a thinner, light Lumia 920 with a hint of the original Lumia 800 added in for good measure. The device is significantly lighter at just 133 grams (versus a Lumia 920 at 185 grams) even though the display is 0.2-inches larger.

Speaking of the display, with 720P graphics, ClearBlack for deep colors, SuperSensitive Touch and a slight curvature, the Lumia 730 builds nicely off of previous technology, delivering a quality experience for a budget-friendly phone.

Finally, the real selling point of the Lumia 730 comes in its two top performing cameras. The rear camera builds off of the Lumia 720's excellent 6.7 MP design, which was good enough to be used in the Nokia Lumia 2520 tablet later on. With its F/1.9 aperture, the rear camera should deliver excellent low-light performance while still taking sharp images, all without Nokia's famed PureView technology. The front-facing camera is a large 5 MP sensor ideal for Skype calls or so-called 'selfie' shots popular with today's younger crowd. Although 5 MP front-facing cameras are found on other phones, they are usually reserved for flagship devices and not budget-friendly ones meant for younger students or the youth market.

A single SIM 4G LTE variant dubbed the Lumia 735 was also announced by Microsoft today.
http://www.wpcentral.com/nokia-lumia-730-and-735-specifications
http://www.theverge.com/2014/9/4/6103443/lumia-730-selfie-phone-launch-ifa-2014
Preço sem imposto: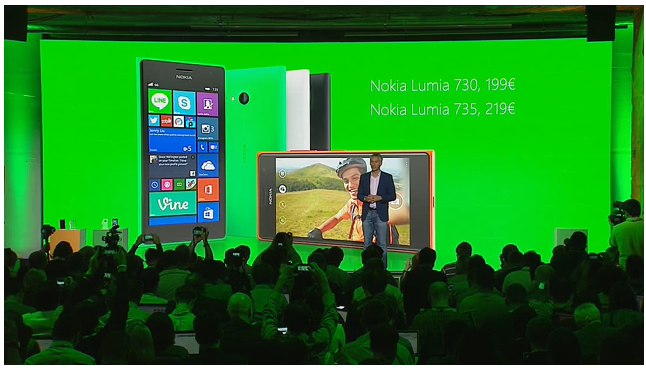 ORIGINAL------
Nokia 'Superman' will be the best Windows Phone for selfies

One of the first Windows Phone 8.1 devices due for release after Microsoft's acquisition of Nokia's phone business will be focused on the front-facing camera capabilities. Sources familiar with Microsoft's plans tell T

he Verge that a Nokia 'Superman' device is currently in development with a 5-megapixel camera at the front.

Nokia has typically reserved such additions for the rear of its devices, but Superman marks a shift. It's not clear if Microsoft plans to market Superman as the ultimate selfie-taking phone, but a 5-megapixel camera at the front instead of the standard 1-megapixel offering is no accident. Superman will join

HTC's recently released One M8

, which also includes a 5-megapixel front-facing camera.

We understand that Superman is designed as a 4.7-inch mid-range handset that's expected to debut towards the end of the year.

Microsoft is also currently working towards two Windows Phone 8.1 updates that will be delivered over the course of 2014. Like previous Windows Phone 8 updates, the pair of 8.1 updates will coincide with new handsets and will be rolled out to existing devices. The first update is tentatively scheduled for June, and Superman is expected to debut alongside the second later this year.

Microsoft is working on additional Windows Phone 8.1 handsets that will be released this year. A

"Goldfinger" device was scheduled to debut alongside Windows Phone 8.1

, but crucial support for new off-the-glass gestures was delayed to an update for Windows Phone 8.1. Goldfinger is still undergoing testing, and Microsoft is also readying another two Windows Phone 8.1 handsets alongside it. It's still not clear whether any of these devices will include Nokia branding on them. Microsoft appears to be taking the transition slowly, and the company has not yet detailed its plans for future branding.
http://www.theverge.com/2014/4/28/5660722/nokia-superman-windows-phone-features
Mid-end
Ecrã 4.7"
Câmara frontal de 5Mpix
Última edição: