Género:
Beat 'em Up
Produtora:
Platinum Games
Editora:
Sega Corporation
Data de Lançamento:
2011
Press Release:
SEGA AND PLATINUMGAMES REVEAL ANARCHY REIGNS

PlatinumGames Presents a Multiplayer Brawler Set in a World Where Anarchy is King.

LONDON AND SAN FRANCISCO - (January 27th, 2011) – SEGA® Europe Ltd. and SEGA® of America, Inc. today reveal details on upcoming third-person multiplayer brawler, ANARCHY REIGNS™, the much anticipated next title from critically acclaimed developer PlatinumGames. ANARCHY REIGNS will be available in Autumn 2011 on the Xbox 360® video game and entertainment system from Microsoft and PlayStation®3 computer entertainment system.

With ANARCHY REIGNS, PlatinumGames will be using their hallmark creativity and technical excellence to challenge the boundaries of the conventional brawler genre by allowing multiple players to get involved in heavy-hitting action simultaneously. ANARCHY REIGNS incorporates a diverse range of multiplayer modes to provide players with different challenges, including Tag Team battles and Battle Royal, where players can challenge others in a full-on fight for victory.

"SEGA are delighted to continue our collaboration with PlatinumGames, one of the most creative and critically acclaimed developers in the world," said Gary Knight, Senior Vice President of Marketing of SEGA West. "ANARCHY REIGNS is set to offer gamers a fresh multiplayer experience with the quality and innovation PlatinumGames are renowned for."

ANARCHY REIGNS will be available in Autumn 2011 for the Xbox 360® video game and entertainment system from Microsoft and the PlayStation®3 computer entertainment system.
Bayonetta dev announces Max Anarchy ( Platinum Games' new SEGA title revealed. )
Bayonetta and Vanquish developer Platinum Games is creating a new PlayStation 3 and Xbox 360 game for SEGA due out this year.

Max Anarchy is an online action game with support for a large number of players, Andriasang reports.

It is Platinum's first online combat game.

Screenshots in Japanese magazine Famitsu show characters wielding chainsaws and torches. Jack from Platinum's black and white (and red) gore-fest MadWorld is a playable character, although this time he will appear in full colour.

SEGA told Eurogamer this morning that more information on Max Anarchy will follow "later this week".

Last December SEGA West's executive vice president of sales and marketing Alan Pritchard revealed the Japanese company would publish another Platinum Games developed title, leading to speculation that Bayonetta 2 was set for a reveal.

SEGA has published each of the four Platinum Games' titles: MadWorld, Infinite Space, Bayonetta and, most recently, Vanquish.
Anarchy Reigns- Preview ( Anarchy in the UK. )
Sat in the railway-arched underbelly of a London club, we're watching a post-game demonstration of kick-boxing proficiency. One of the athletes has just mistimed his vertical leap out of the ring and hit the side-decking - specifically, he's landed directly on a point somewhere between his eye-socket and his cheekbone. Not everyone in the audience caught this moment, but those who did have assumed a collective wince. (...)

(...) Set in a Fallout-esque, apocalyptic wreckage of a city, the game is a sandbox environment for a brawler focused on team mentality every bit as much as the traditional, one-on-one duel to the death. (...)

(...) In Anarchy Reigns, these take the form of landscape-changing disasters: a giant saw-blade grinds through the streets, clearing as much scenery in its wake as it does flesh; an alert sounds and the action freezes as the camera shifts its focus to a tsunami building on the distant docks; or a suspension bridge collapses, providing a tactical overhaul of the battlefield. (...)

(...) So far we've only been given the most maddening tease of an insight into the potential for Anarchy Reigns, a game where Street Fighter takes inspiration from MadWorld, with a taste for the freeform violence of Grand Theft Auto. Scheduled for release later this year, we don't have too long to wait to get our fists bloody.
Vídeos:
Anarchy Reigns: Gameplay trailer
Anarchy Reigns: Mathilda trailer
Imagens: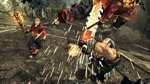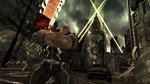 Mais Imagens:
(1)
(2)
(3)
Website Oficial
Última edição: